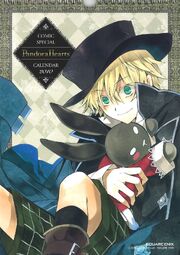 The 2010 calendar for Pandora Hearts was the very first calendar to be released for the series. It was released on the 16th of November 2009 and contains 13 pages including the front page.
Featured Characters
(*) - Denotes a small appearance in the cover for January
Cover for each month
Trivia
Sharon, Cheshire and Lottie make very small appearances in the cover for January, as black outlines in the cards at the top right corner.